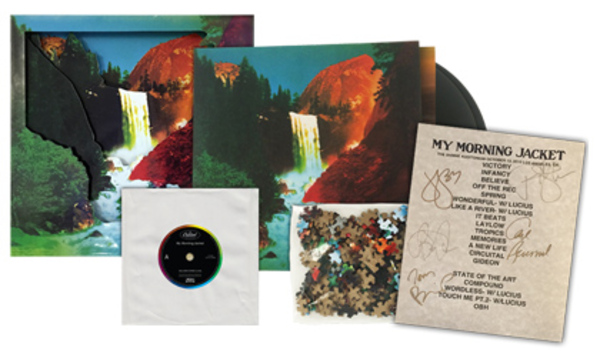 11/05/2015
Friends! Finding the perfect one-of-a-kind gift can be stressful. But rest assured we've got you covered with what could possibly be one of the greatest BOX SET OFFERINGS OF ALL-TIME in this reality (or any alternate one in the multiverse that you may now reside in or perhaps are now estranged from)!
Introducing: The Waterfall Mega Deluxe Box Set with Autographed Setlist. For a very limited time fans will receive a signed setlist from the 2015 tour date of their choice!
The Waterfall Mega Deluxe Box Set includes:
-The Waterfall on 180 gram, double gate-fold vinyl with included download code
-256 Piece puzzle of the album cover (Makes a great family activity or use it to isolate yourself!)
-Die Cut Box Cover (Beautiful piece of art that does a great job reflecting the visible spectrum of light here on Earth and possibly other planets!)
-Sliding Drawer to house all contents (Great place to hide your "money"!)
-5 Custom Die-Cut Postcards (Write an old-fashioned letter to your first love. Let them know you're over them/not over them.)
-7" Side A: Hillside Song - Side B: I Can't Wait (Enjoy some of the best recorded music ever made. Can you even handle it??)
-Autographed Setlist from The 2015 Waterfall Tour date of your choice (Frame it. Post it on Instagram. Pretend that someone besides you even cares.)
TRACKLIST:
1. Believe (Nobody Knows)
2. Compound Fracture
3. Like A River
4. In Its Infancy (The Waterfall)
5. Get The Point
6. Spring (Among The Living)
7. Thin Line
8. Big Decisions
9. Tropics (Erase Traces)
10. Only Memories Remain
Download card also includes:
1. Hillside Song
2. Compound Fracture "Miami Jungle Alt Version"
3. I Can't Wait
4. Only Memories Remain (Jim Demo)
Don't miss out on this limited time offering (like the McRib but guaranteed not to give you the runs, maybe). Head over to the online store and pick one up for yourself, a friend, an architect, the inventor of Salisbury steak, a loved one, your nemesis, next of kin, or ruler of an island nation today! We heart you, friends.