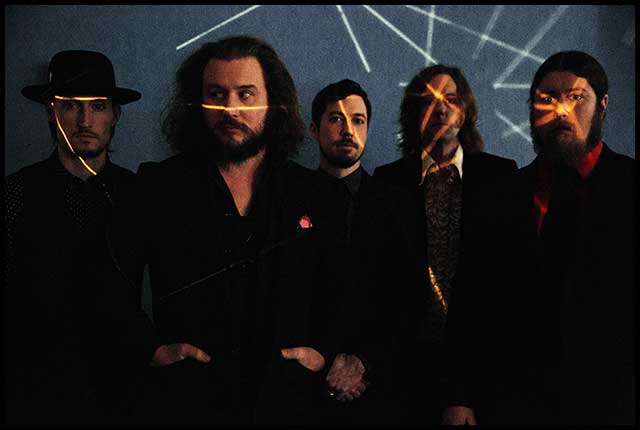 06/28/2012
The Spontaneous Curation Series is currently underway in Europe and gearing up for the US run. Fan club members and concert goers are asked to assist in curating each night's set list through Twitter and the Roll Call Forum. The series will continue to comprise of the entire My Morning Jacket album catalogue and rarities, adding to the spontaneity and uniqueness each night. Individual US show #hashtags are listed below and submissions are currently being compiled. Be sure to use your show's specified #hashtag and @mymorningjacket to participate.
For more info on the series go here.
Please note:
*Covers will not be considered for the series
*Roll Call submissions will be compiled for the opening song in the set list
*Tweets will be compiled for encore submission
*Multiple tweets are accepted and encouraged!
PLEASE NOTE: NEWPORT WILL BE A SPECIAL FESTIVAL SET AND NOT PART OF THE SERIES.

7/14 Louisville, KY: #MMJforecastle
8/2 Salt Lake City, UT: #MMJtwilight
8/3 Morrison, CO: #MMJredrocks1
8/4 Morrison, CO: #MMJredrocks2
8/6 Kansas City, MO: #MMJstarlight
8/7 Lincoln, NE: #MMJlincoln
8/8 St. Louis, MO #MMJstlouis
8/10 Somerset, WI: #MMJsomerset
8/11 Milwaukee, WI: #MMJmilwaukee
8/12 Columbus, OH: #MMJcolumbus
8/14 Rochester Hills, MI: #MMJmeadow
8/15 Toronto, ON: #MMJecho
8/17 Philadelphia, PA: #MMJphilly
8/18 Columbia, MD: #MMJmpp
8/19 Brooklyn, NY: #MMJbk
8/21 Pittsburgh, PA: #MMJpitt
8/22 Chicago, IL: #MMJchicago
8/24: Alpharetta, GA: #MMJatl
8/25: Charlotte, NC: #MMJcharlotte
8/26: Raleigh, NC: #MMJraleigh
9/7 Redmond, WA: #MMJmarymoor
9/8 Troutdale, OR: #MMJedgefield
9/9 Boise, ID: #MMJgardens
9/11 Los Angeles, CA: #MMJwiltern1
9/12 Los Angeles, CA: #MMJwiltern2
9/13 Los Angeles, CA: #MMJwiltern3
9/15 Berkeley, CA: #MMJberkeley